The current space is saturated with different types of marketplaces, some add value to their users, and some are market value imitators.
The blue ocean strategy, by Chan Kim & Renée Mauborgne,  represents uncontested market spaces where there is little to no competition. Moreover, it creates new markets where none existed in the past. In contrast, a Red Ocean is where everyone is competing and markets have well-defined boundaries.
The NFT marketplace sector was once a Blue Ocean. Back then, there were no marketplaces until OpenSea launched. They were the first mainstream centralized peer-to-peer exchange of NFTs that enabled users to transact with each other directly with decentralized transactions (cryptocurrencies).  At the time, they were no competitors. Then, marketplaces like SuperRare and Nifty Gateway started to appear.
In the last couple of months, we have seen new NFT marketplaces emerging like X2Y2, LooksRare, and the Coinbase NFT marketplace. The market is starting to see a saturated offer in marketplaces for secondary sales, in other words, a Red Ocean. Crowded markets with some lack of growth, where the margins are constantly eroded, resulting in commoditization. In other words,  Red Oceans lead to ferocious battles between companies to take profits, like sharks fighting for food.  Buyer value and Innovation then become increasingly more important to a project's success.
Marketplaces' Offer Value
As new competitors arrive into the market, innovation and value begin to rise, and the marketplaces start to eliminate their costs.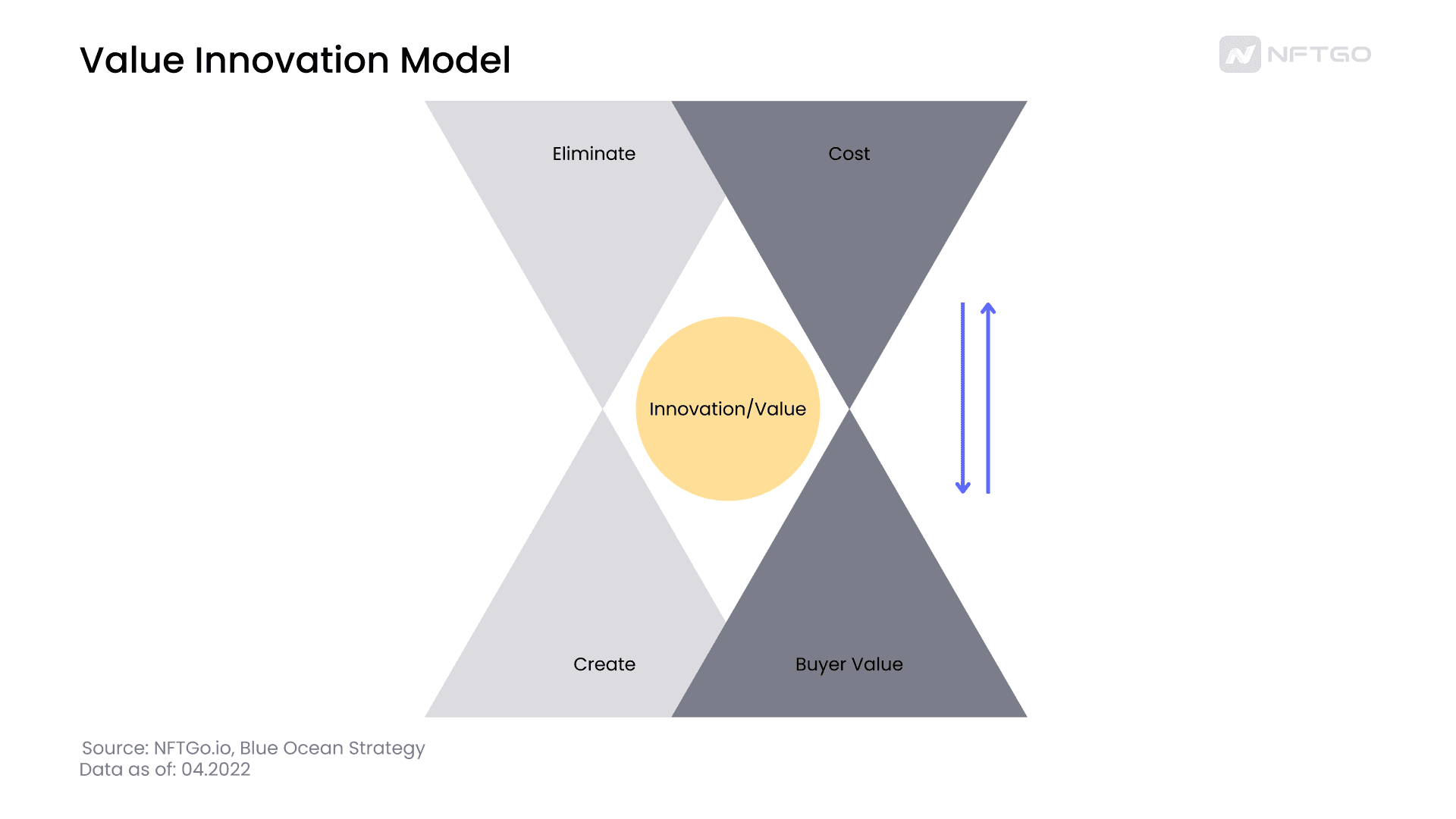 The current marketplaces are beginning to define boundaries based on what consumers perceive as their ideal marketplace. For example, people who would rather have an NFT with more unique and artistic value than a piece from a 1 out of 10k collection can now find marketplaces like Foundation or Nifty Gateway that offer unique NFT 1 of 1 piece.
Another example of this is the recently released Coinbase NFT marketplace; their team explored the social aspect of space, leading to interesting innovations. This new feature lets the users interact with each other through comments in their NFTs, kind of like Instagram but in web3.
This "Pioneer Migrator" map shows which sites are creating value for buyers, which have improved the customer experience, and which are value imitators.
Even with the fact that there are a lot of places to exchange digital assets, there is an enormous convergence in the marketplace strategic profiles. The market evaluation shows key competing factors; the vertical axis captures the offering level buyers receive or experience for each of the industry's key competing factors. These factors increase the cost structure, and organization time, and complicate operations. A high score, in the vertical axis, means that the marketplace offers more to buyers and sellers, while a relatively low score means that the marketplace offers less value to its users.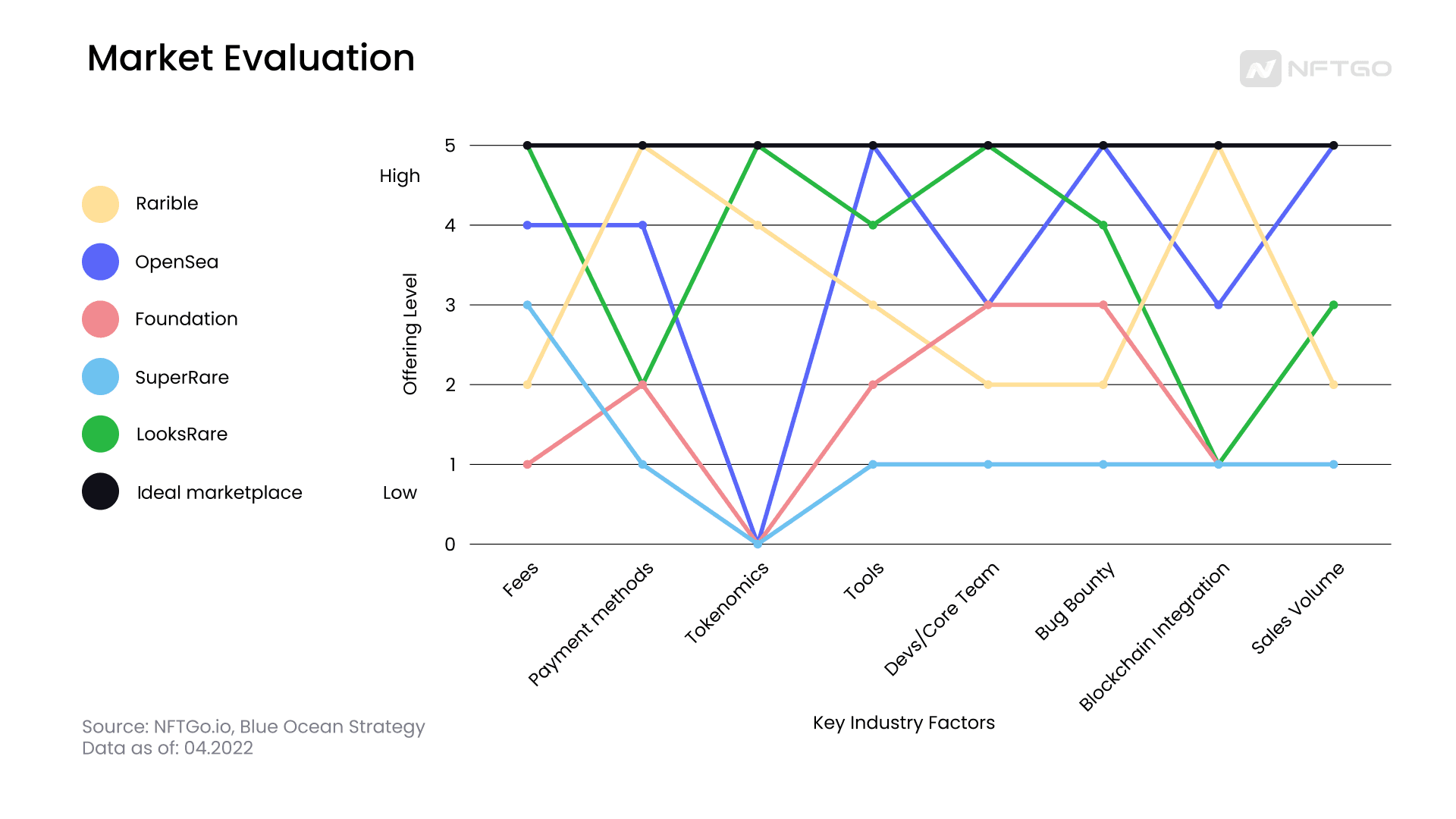 OpenSea has been the king of the market for a few years, however, as more companies get into the industry a more dense market evaluation graph has begun to take shape. It will be interesting to see what innovations devs create in order to extract value from their NFT exchanges.
Furthermore, marketing campaigns will have to become more original in order to gain some momentum from users. For example, the new marketplace Blur recently came up with a good marketing strategy, they created a sense of exclusivity for early adopters.  In order to get more users aware of the upcoming beta, they created a scheme where OGs had the opportunity to invite 5 "friends" to also get the beta. This lets the OGs and their friends get marketplace "points." These points could be redeemed for some sort of utility inside the platform. This led Blur to have an organic exposure from NFT investors because they let the users spread the word.
Disputing the lead
Offering value is the main key to determining if marketplaces are or will be successful in the long run. Based on the Market Evaluation graph, we see some similarities with Marketplaces Total Sales, the more value that is added to the platform, the more sales the site has. Marketplaces Total Sales shows total sales of the top five markets; LooksRare metrics do not include wash trading.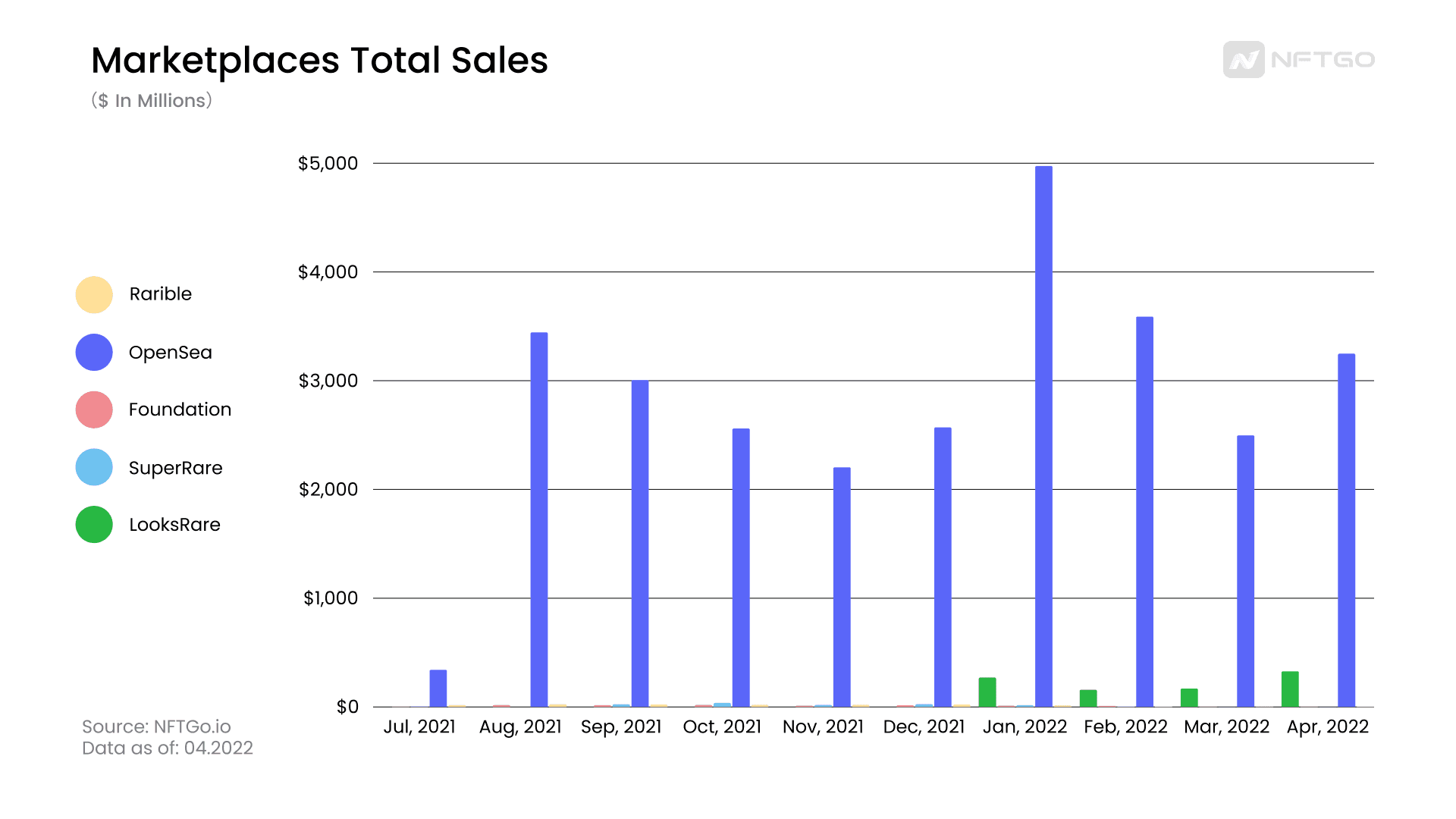 LooksRare has done an excellent job of establishing itself as the second-largest NFT marketplace by offering tokens to its users and thus creating more unique value for users. However, the LOOKS token has recently taken a dive, partially due to the high level of wash trading done on the LooksRare platform.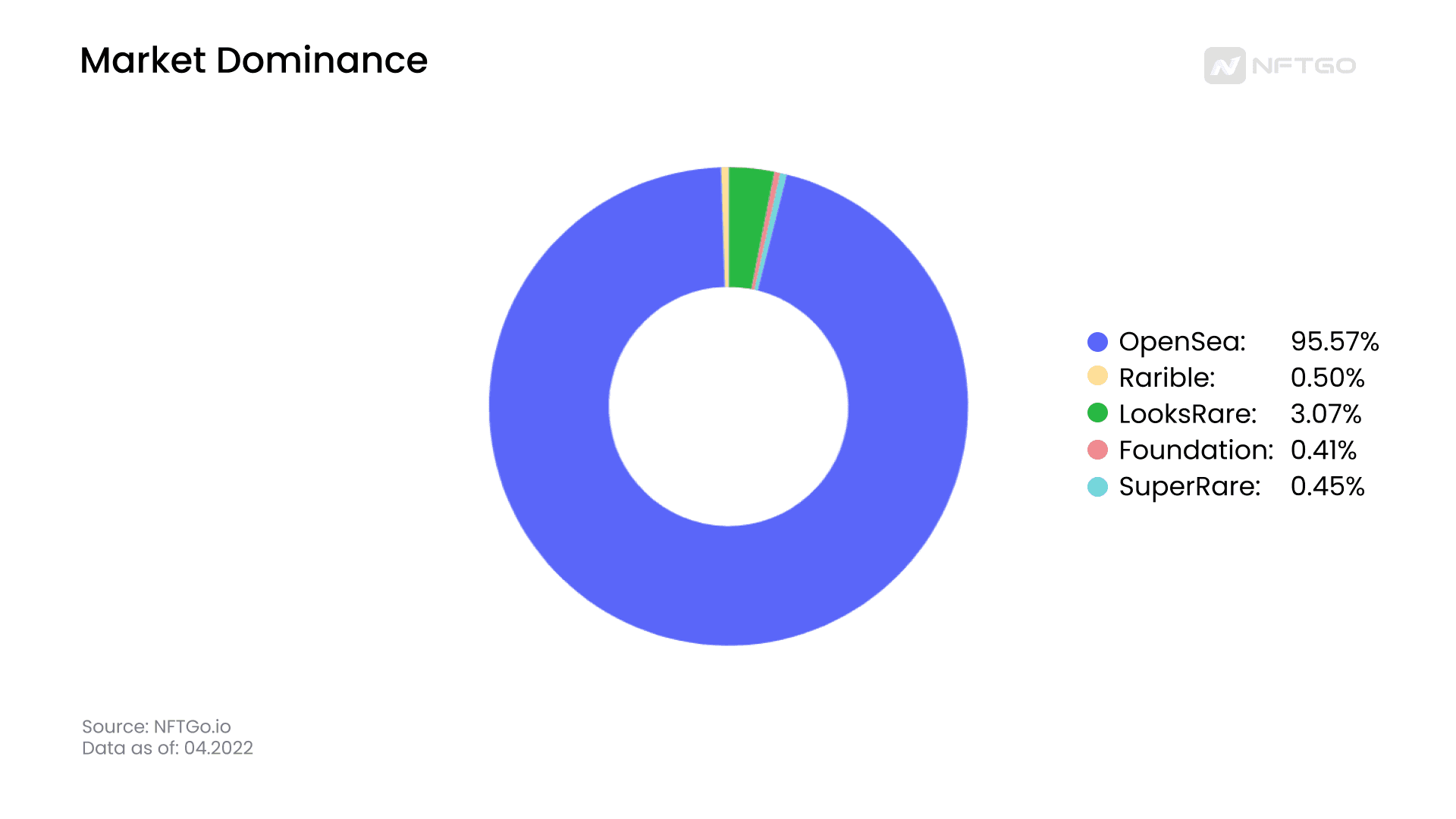 Taking OpenSea out of the picture, there is a highly competitive market between Rarible, Foundation, and SuperRare; this is because the three of them offer similar values to their customers.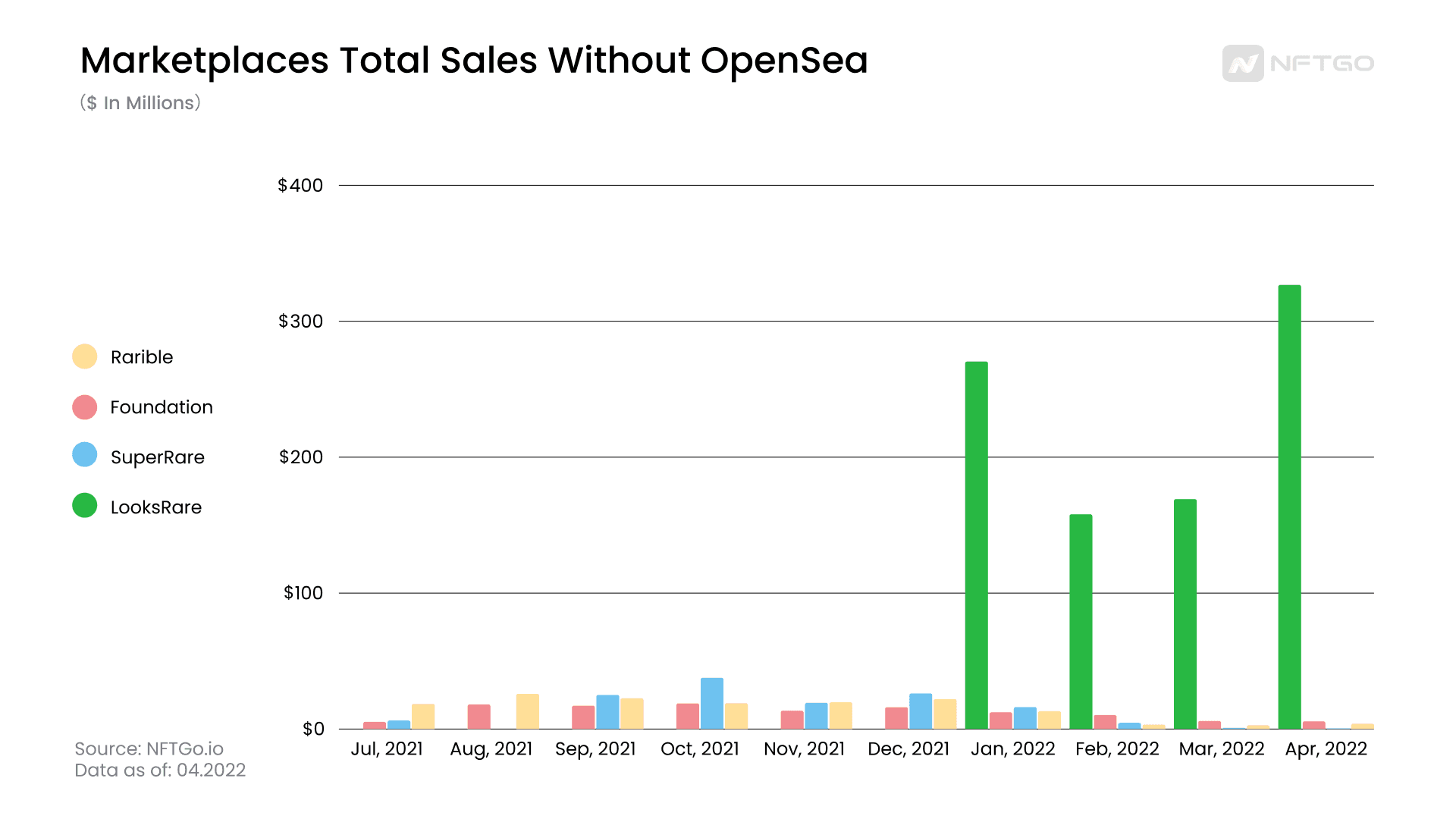 LooksRare has taken a big share of the market between the four of them. This enables LooksRare to worry less about what the competition does and focus more on themselves. This is because they have created a market strategy that their competitors cannot threaten at the moment.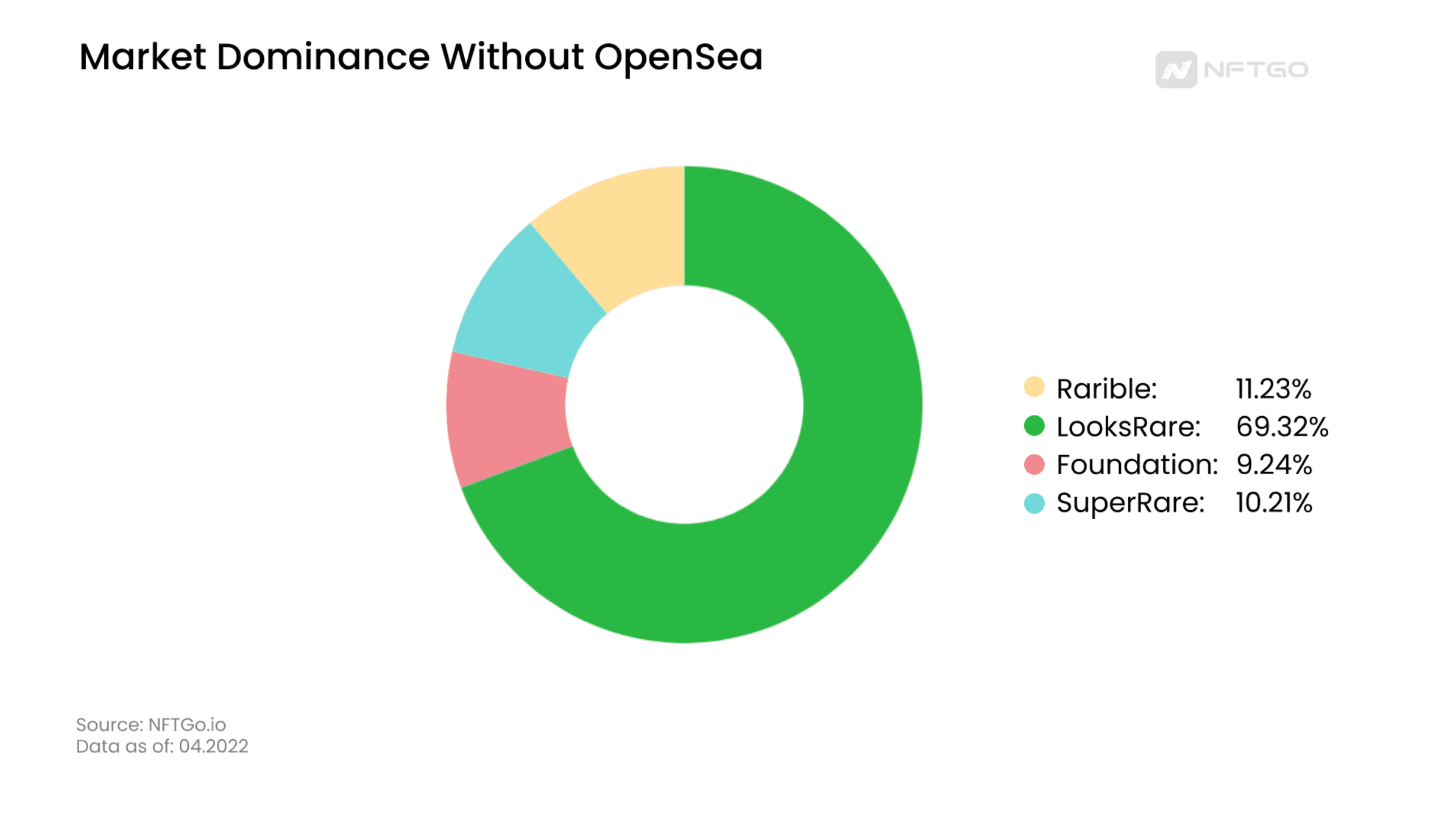 Yuga Labs Becoming a Marketplace?
Imagine taking out the sales volume of 6 of the top 20 collections in the marketplace:
Bored Ape Kennel Club
Bored Ape Yacht Club
Mutant Ape Yacht Club
Otherdeed
CryptoPunk
Meebits
Yuga Labs is a big contender to create its own marketplace. The studio already has the trust of the public, and perhaps more importantly, it has volume and sales.
The recent release of the $APE coin is a master move. They developed a second layer token on the ERC-20 to use as a coin to trade their new collection Otherdeed.
Based on the market cap of LooksRare ($441M USD), Yuga Labs' potential marketplace could be number 2 of all Ethereum marketplaces with a market cap of $4.03B USD.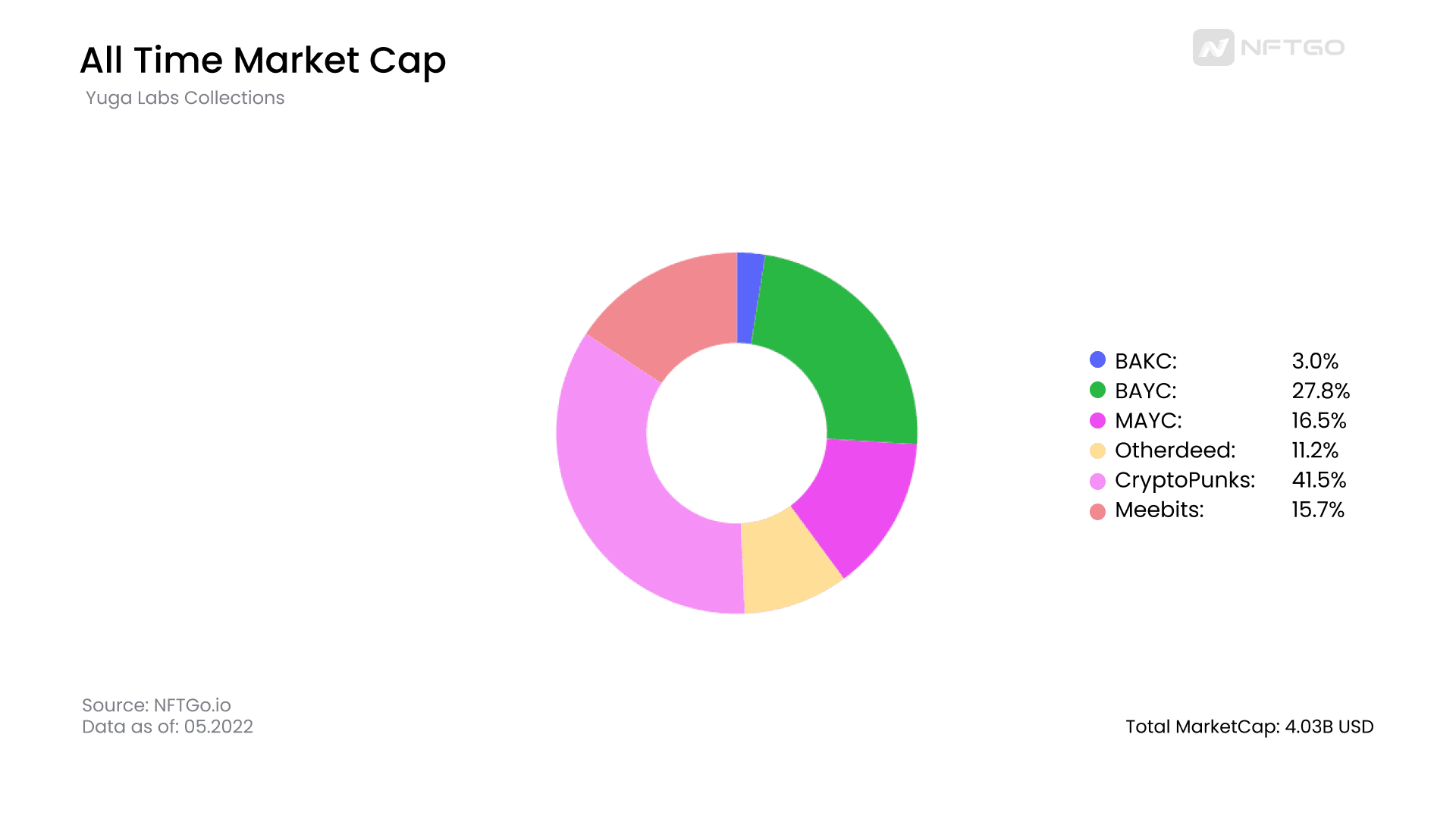 All Time Volume shows which collections have the most traded volume (based on USD), since their launch date.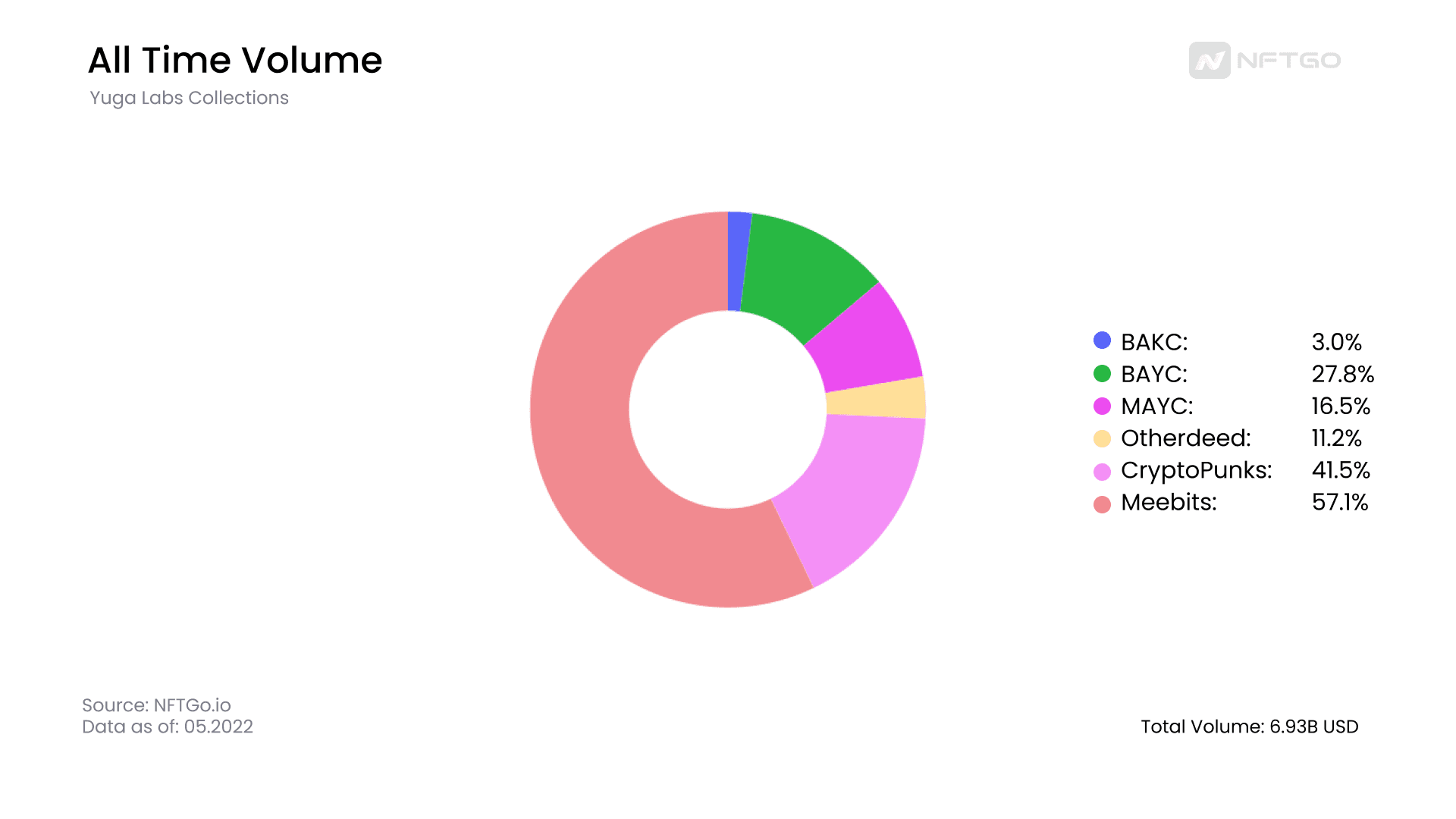 With this kind of volume, Yuga Labs can be a serious competitor.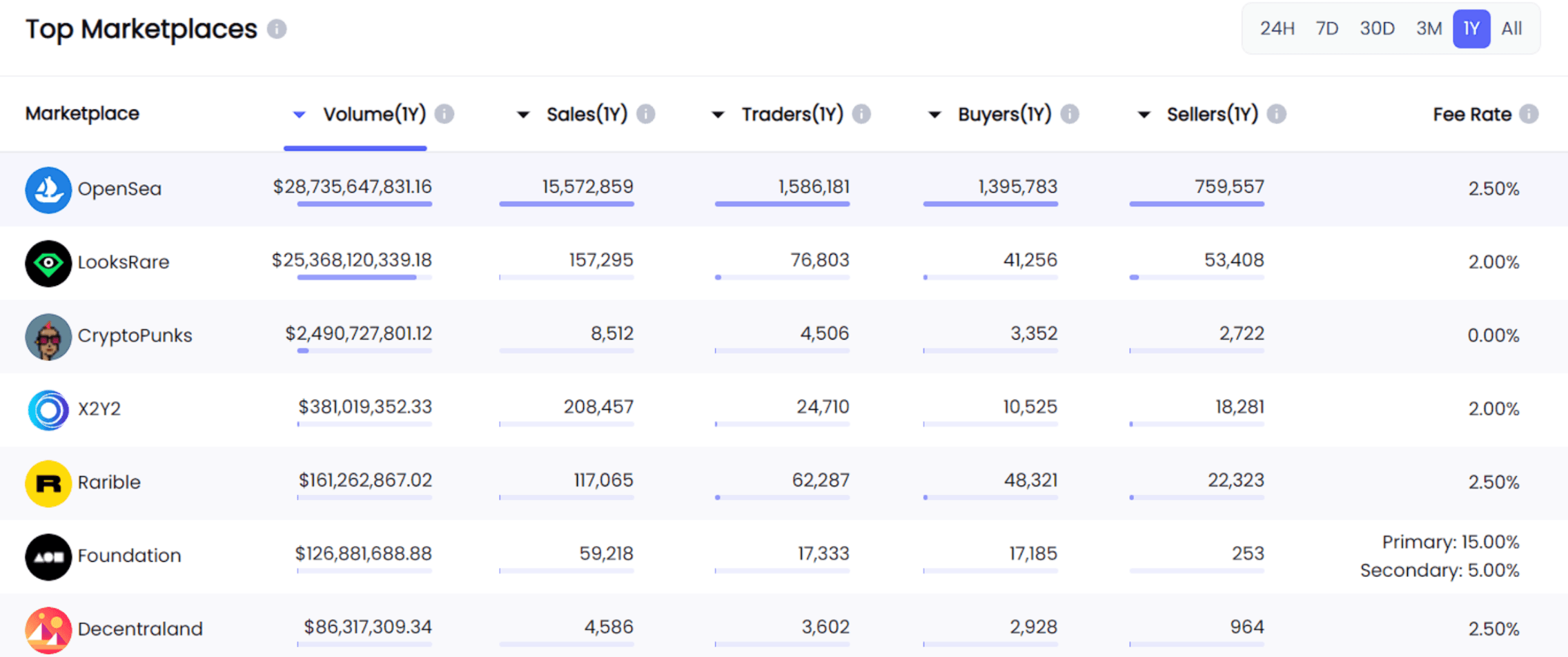 It would be interesting to see if they finally launch their marketplace and what value that could bring to their holders. Imagine receiving compensation from the marketplace for every sale just because you hold one of the Yuga Labs' collections.
Conclusion
At the end of the day, customers will win because of this Red Ocean. Devs will have to work harder to gain some market share and volume. Remember that volume is important to investors, it determines the number of flippers/traders that could potentially exist in a determined market.
The good thing is that the NFT exchanges are defining frontiers, so every marketplace will be for a specific target market. Hopefully, we will see more integration and diversification between blockchains and the arrival of new web3 adopters.
Note: The above information is for informational purposes only. Investing in digital assets such as NFTs and cryptocurrency brings with it a high degree of risk. Please consult with a financial advisor before making any investment decisions. NFTGo does not provide financial advice and is not responsible for any losses incurred as a result of investing in digital assets.