This week is the 48th week of the year. The current NFT market continues to be in the trough as trading volume remains at its lowest level for a prolonged period of time. However, most people are highly hopeful for the market's future. We will keep an eye on the data movement in order to capture rebound signals in time.
1.Market Analysis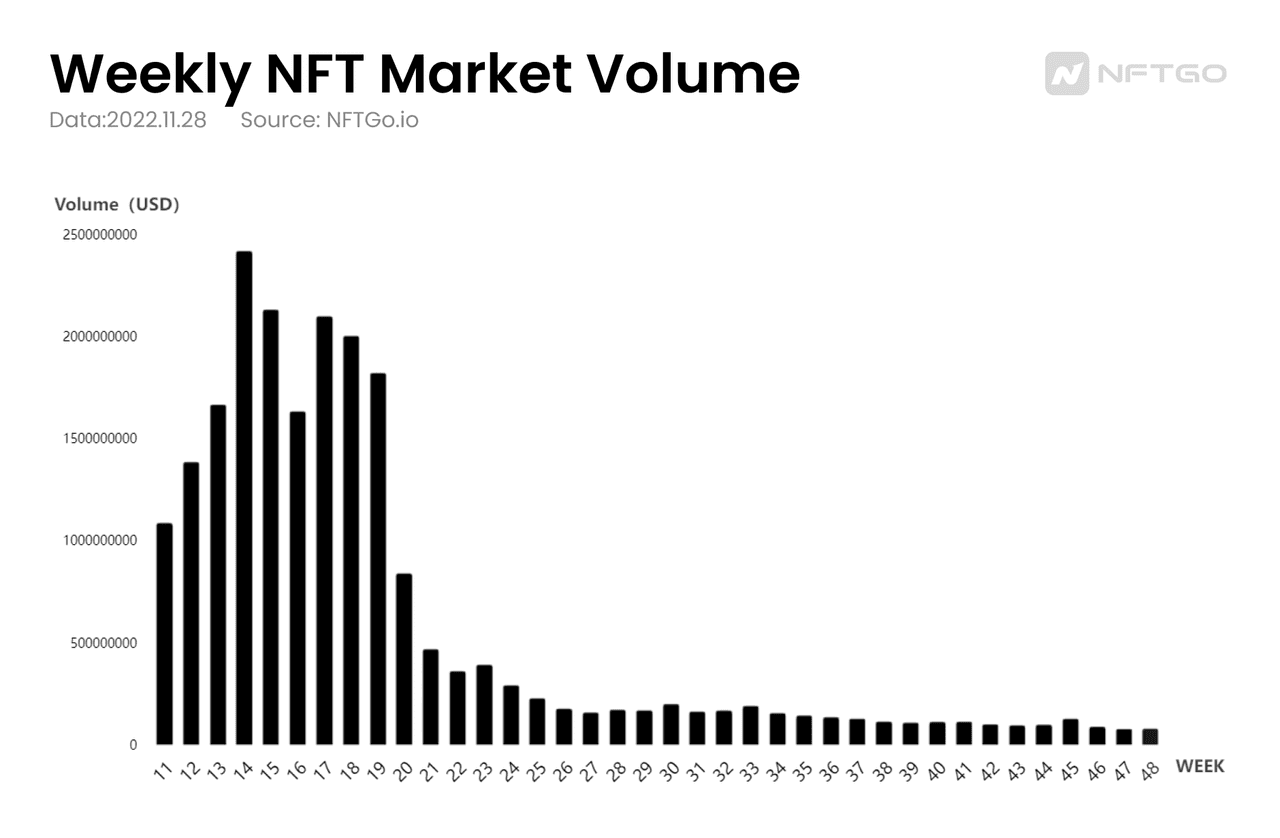 This week, the market saw a YoY increase of 1% in volume, but we are still stuck within the lowest range of the year.
At present, most projects in the market are characterized by "low amounts of listings, transactions, and low floor prices." Projects such as Otherdeed, BAYC, and Clone X have seen a gradual decline in pending orders since October, which indicates that the current price level is not ideal for holders to make a profit. To some extent, this trend has helped to preserve the prices of these NFTs.

The continued market lull has resulted in a reduced pace of project issuance. There are 2 new NFT projects this week with better data performances: Valhalla (volume 4.5k ETH, floor price 0.53 ETH) and Cel Mates Crime Reports (volume 2.3k ETH, floor price 0.76 ETH).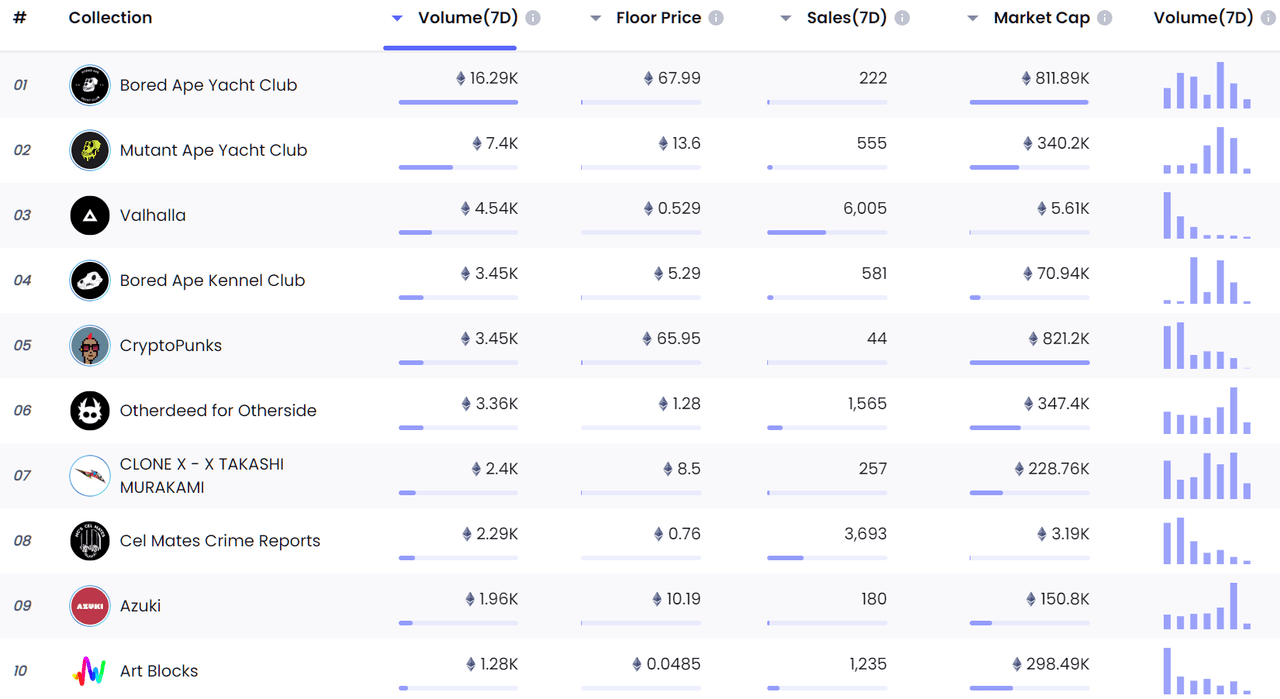 2.Traders Trend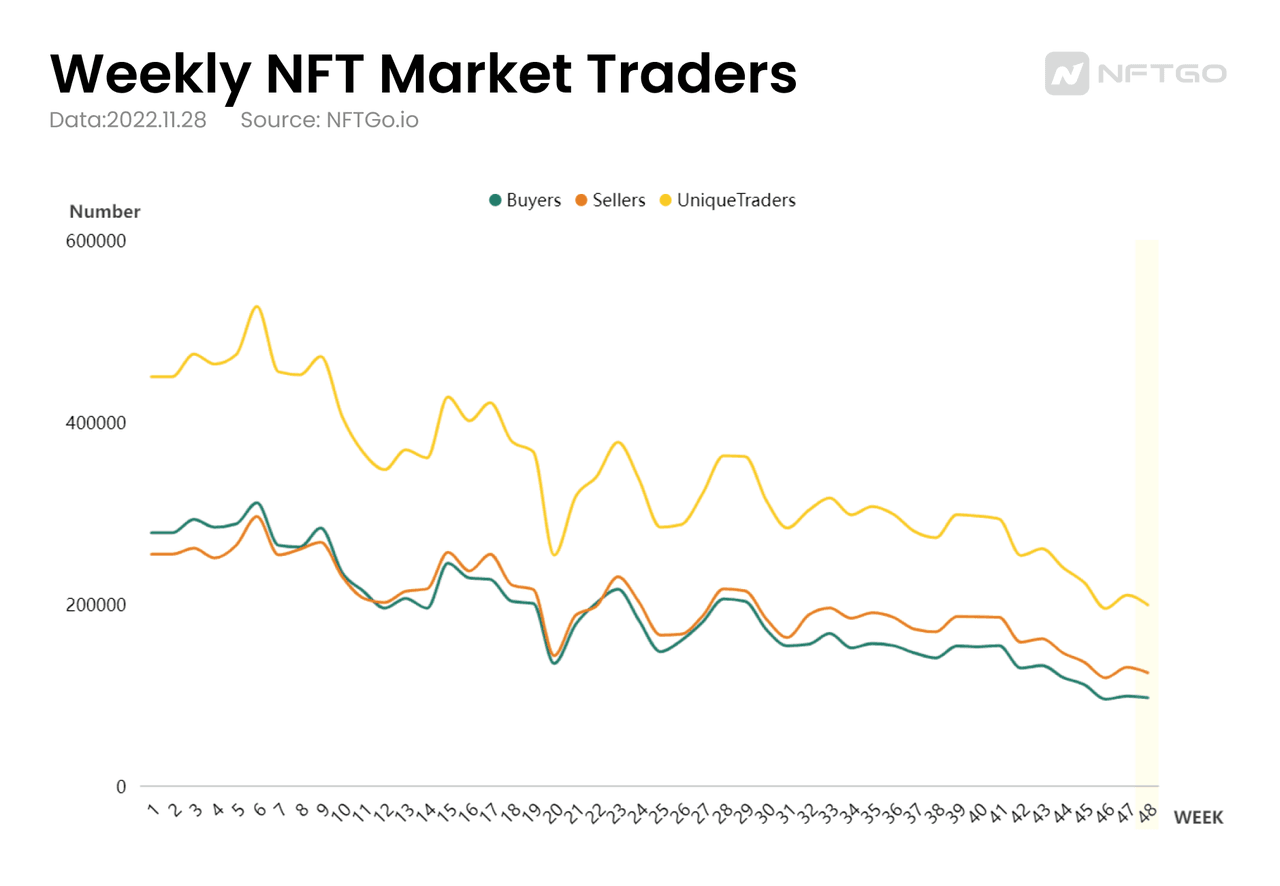 The total number of NFT traders decreased by 5% compared to last week, with sellers outnumbering buyers by 28%.
Since May of this year, the number of sellers has been consistently higher than the number of buyers. In general, traders prefer to sell their assets. Long-term data show that traders' priority is as follows: leave the market > observe > forced to sell. All in all, market recovery cannot be achieved without an influx of traders. Hence, traders must wait patiently for the buying power in the market to increase.
3.Blue Chip NFT Trend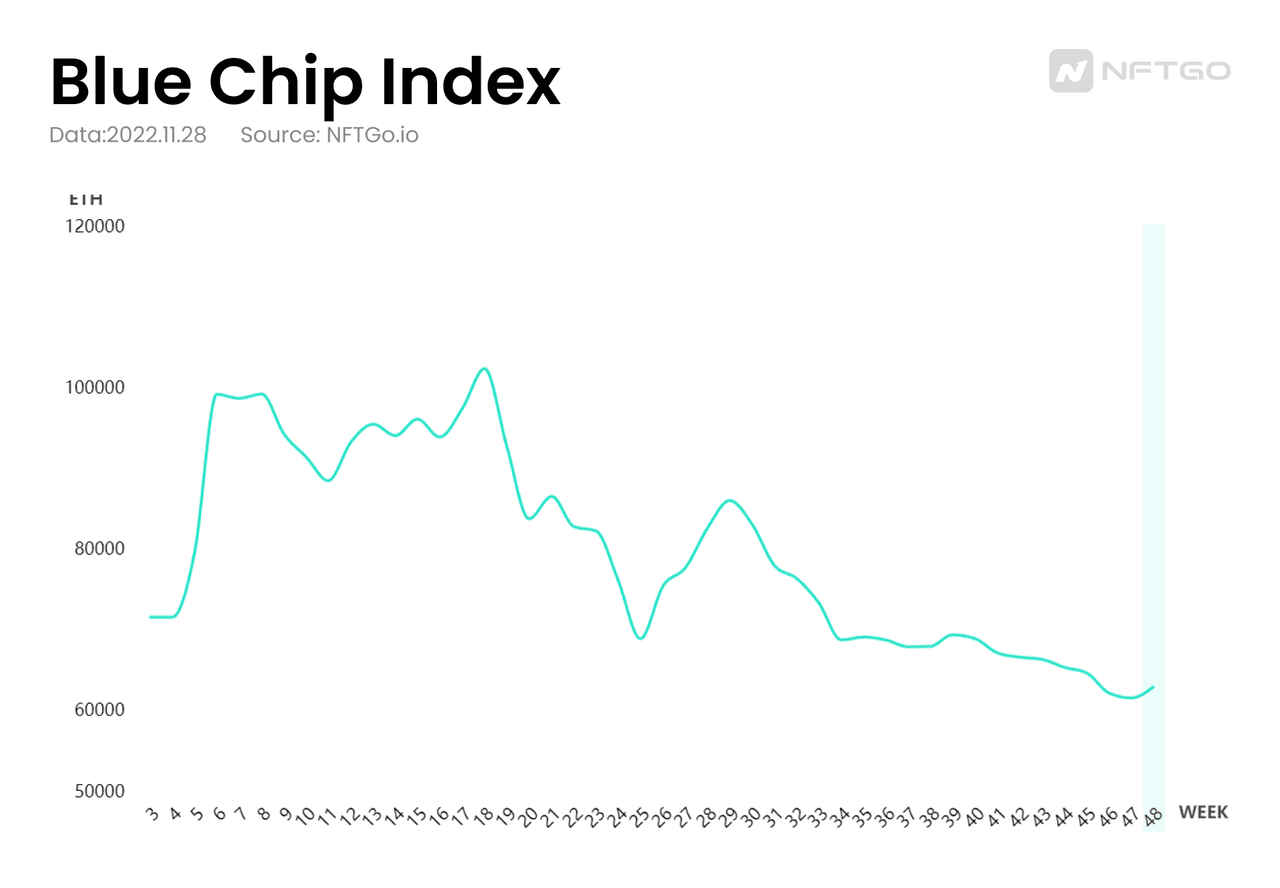 The blue chip NFT index rose 2% this week — a slight rebound from last week. This year, the blue chip NFT collection has recorded multiple historical price lows. Combined with the sharp drop in ETH price, blue chip NFTs are now in the lowest price range ever recorded in terms of USD.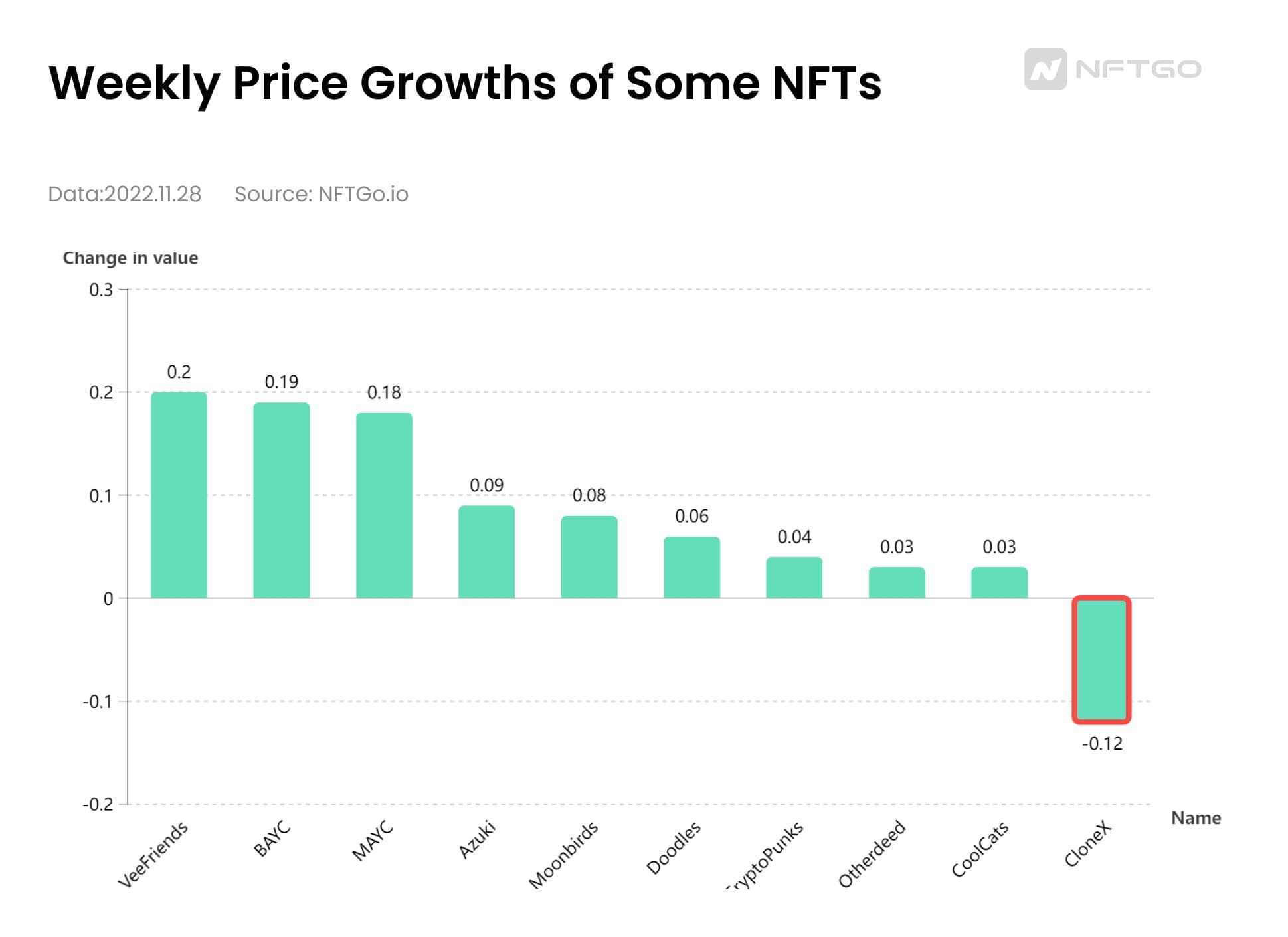 The actual price trend of this week denotes that many top-level NFTs saw their prices rise in varying degrees, except for Clone X, which saw a drop. VeeFriends, BAYC, and MAYC have the most growth.
4.Whale Capital Trend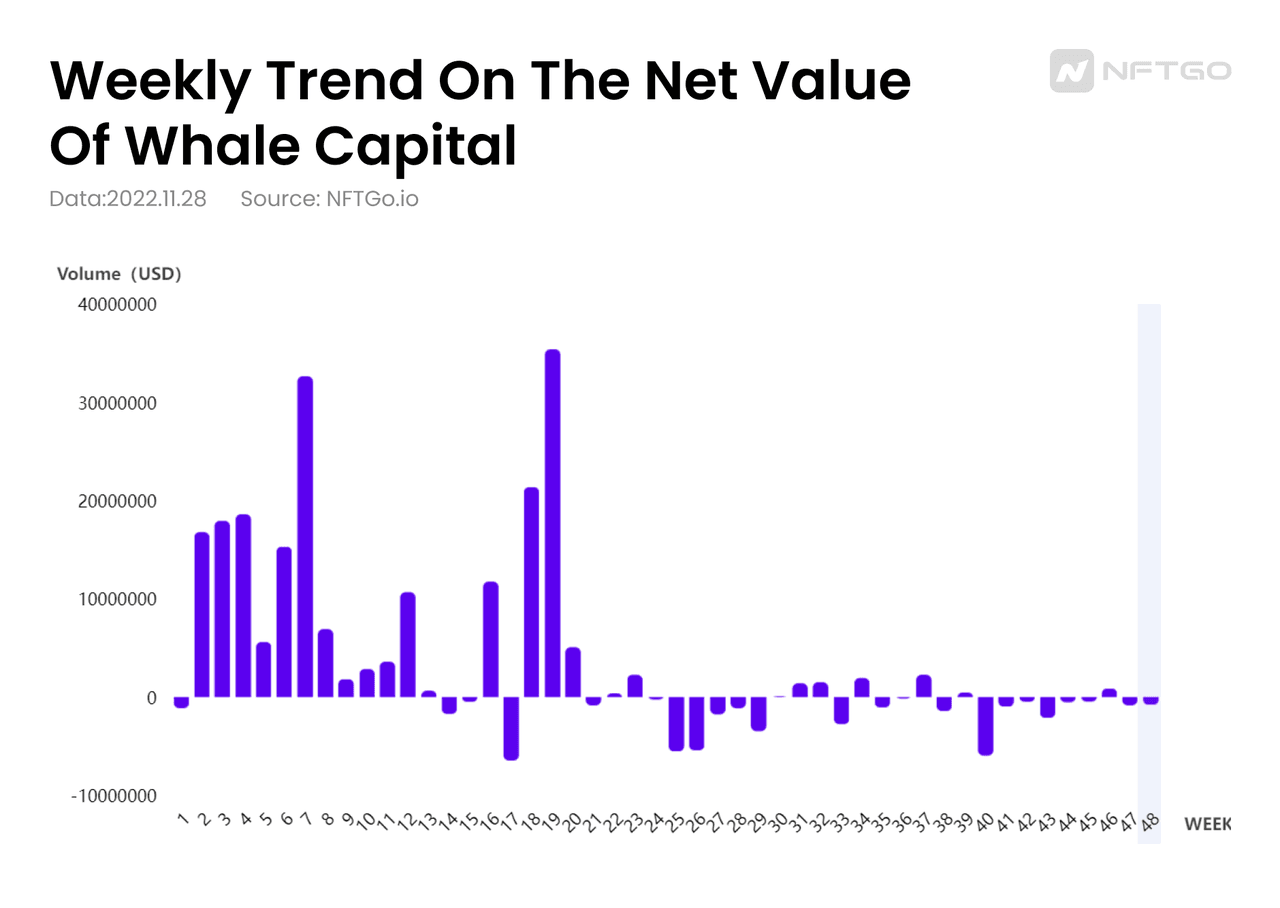 This week's whale capital trend is dominated by minor outflows, with the net outflow totaling $750,000. A quick outflow was observed for some of the whales. Although they are still actively trading, the capital size per capita for short term trading has shrunk to the ten-thousand-dollar range.
It should be noted that, whenever a "standoff" happens between the outflows and inflows of whales capital during the second half of this year, the sellers' side wins. Therefore, we can tell that whales lack motivations to buy NFTs under the current market condition. In addition, the current NFT market is still relatively small in terms of the size of whale capital as most whales have reduced their investments in the market and are appearing "offline".
5.NFTs Bottom-fished by Whales Last Week。
This week, whales have reduced buying NFTs. Besides classic projects like Bored Ape Yacht Club, Mutant Ape Yacht Club, CryptoPunks, etc., there are a few new projects that made it to this week's list.
The figure below shows the top 15 NFTs bought by whales and the amount and average costs.(Some values may be affected by extreme values and are for informational purposes only.)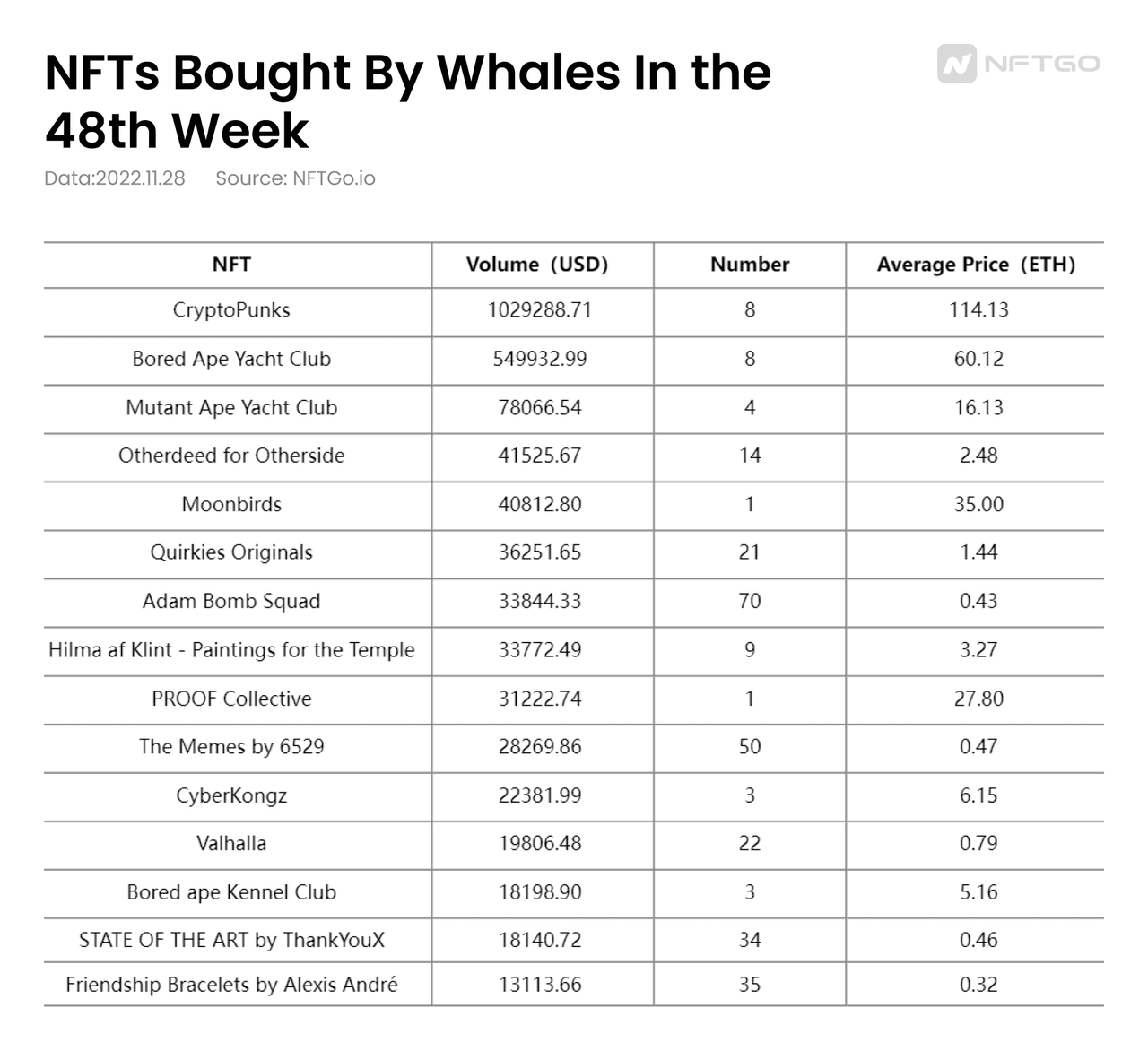 Conclusion
Kindly be reminded that the NFT market is currently trading at a high level of risk due to depressed trading volume and a continued lack of buying capital. Furthermore, the recent market downturn has triggered more money to leave the market. As a major component of the NFT market, blue chip NFT collections must be kept at a close watch to find out if it will cause any major impact on market trends since their prices have dropped below their lows this year.
What are the future trends of the market? When will the market rebound? NFTGo Research will conduct further data analyses to help NFT enthusiasts better understand the market. Subscribe to NFTGo Insights to get the latest information.
Disclaimer: Please consult with a financial advisor before making any investment decisions. NFTGo Research does not provide any financial advice and the content below are for informational purposes only.